SUPPORT > E-Mail > Eudora Tutorial

How to configure Eudora to get your E-mail
---
You can download Eudora from their site, Eudora.com.
If you have been running Eudora previously, and are changing it over, go to the Editing Eudora tutorial. This Tutorial will walk through the New Account settings.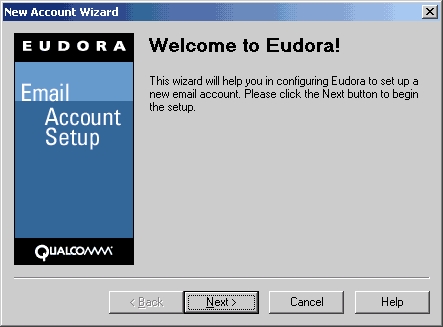 Open Eudora, click on the Next, and select "Create a brand new email account" and then Next.

Type your display name as you want it to appear on outgoing mail. Click Next.

Input the e-mail address you have set up for your domain.

Your Login name is your full e-mail address, i.e. john@example.com

Input the incoming mail server, which is mail.your_domain.com or in this case, mail.example.com

Enter the Outgoing mail server, which is the same thing as your incoming mail server, in our example.com case, mail.example.com:


You will be congratulated, and should now be able to check your mail, after you enter the password for the e-mail account, which you set up in NetAdmin.

You have now successfully created your mail account, and should be able to check it. The default shortcut key for this is CTRL+M, or you can check it from the menu on the top.
You must turn on SMTP Authentication before you can send any mail. This step is crucial.
Many ISPs block the default POP3 Sending port (25). If you have difficulty sending mail, or cannot connect to the server, you will not be able to use your Domain's outgoing mail server. You will need to contact your ISP for their outgoing mail server address and information.
CALL TOLL FREE: 866-566-HOST (4678)

ProHosting has hosted over 2,123,705 web sites since 1996!