SUPPORT > RealProducer:

---
You can get Real Producer from the following page: http://www.realnetworks.com/products/producer/basic.html .
---
Step 1 - Open Real Producer, whether you use the Real Producer Wizard or not is up to you, the settings will be the same at the end. Below is a snap-shot of what the settings should be: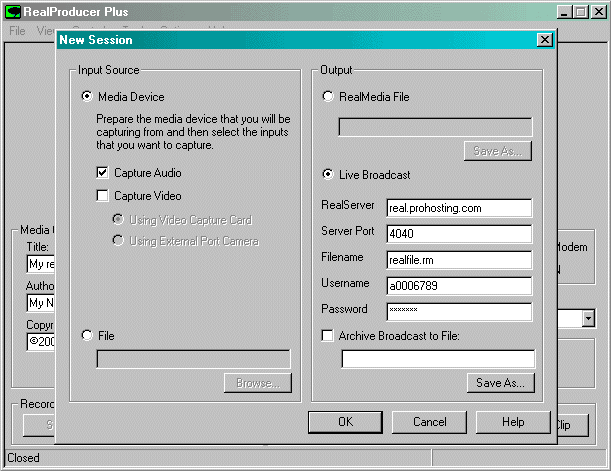 Figure-1 (Configuration)
Step 2 - Choose what you want to stream, "Capture Audio", "Capture Video", or both.
Step 3 - The Title, Author, and Copyright depend on your personal preference.
Step 4 - Choose whether you would like "Sure Stream" or "Single Rate", the free version or Real Producer will not have the option of "Sure Stream".
Step 5 - Choose the speed(s) you want to encode for.
Step 6 - Chose the quality of media you are using.
Step 7 - Specify the Settings for the Real Server.
Step 8 - If your settings are all correct pushing the start button to begin the stream.
Step 9 - To listen to the broadcast you would need to connect your Real Player to: rtsp://real.prohosting.com/encoder/myrealfile.rm
CALL TOLL FREE: 866-566-HOST (4678)

ProHosting has hosted over 2,123,657 web sites since 1996!